Chiropractic treatment for stenosis
---
Current research shows that chiropractic is an effective treatment for stenosis in order to minimise discomfort.
A stenosis is a narrowing in the spinal canal that runs the length of the spine and a thus narrowing between the individual vertebrae (e.g. foraminal stenosis is a narrowing of the nerve passages caused by intrusions of bone).
In most cases a stenosis is triggered by degenerative changes such as osteoarthritis (wear).
A stenosis is irreversible. However, chiropractic can contribute to a considerable reduction in the discomfort and pain caused by a stenosis.
In the case of a stenosis, it is the area around the stenosis, which is treated chiropractically. This is where there will be the so-called 'blockages' (misalignment of vertebrae or joints). If these blockages of not adjusted, i.e. if the joints are not brought into the best possible position, friction occurs, which in turn causes swelling and inflammation. The result -> less space and more discomfort.
Chiropractic frees these blockages. Joints are brought back into position, swelling and inflammation reduces and the pain and discomfort is minimised..
Get in touch. We can help you.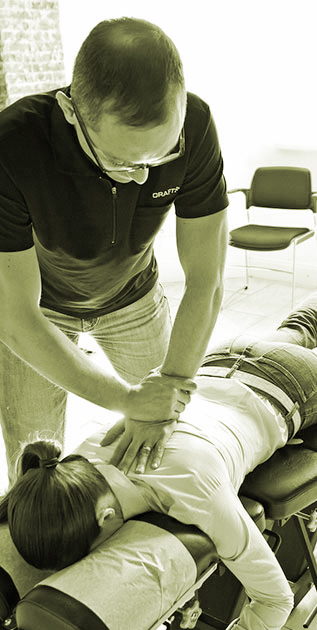 Note!
---
In very severe cases with symptoms such as paralysis or loss of control over bowel movements and urination, surgery is usually required. In such cases we recommend an immediate appointment with your doctor or at your local hospital.