Our Philosophy
---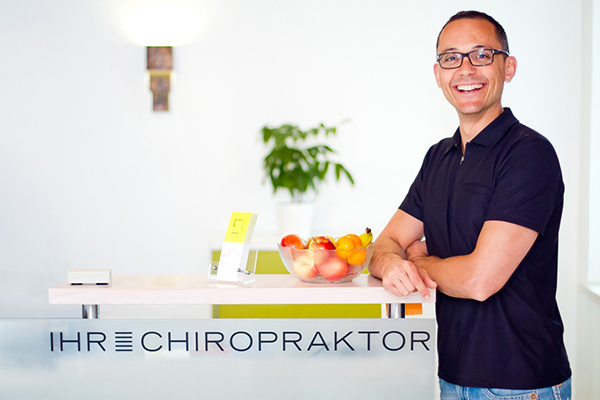 As soon as you enter our IHR-CHIROPRAKTOR practice you'll immediately sense the Danish feel- good atmosphere.
For Efe Gökpinar, a Dane and owner of IHR-CHIROPRAKTOR, it's imperative that when patients come to us they feel at ease and in good hands - both on a professional and on a human level. It's also very important to him that we feel comfortable as his employees – almost like having a second home.
A respectful and deeply felt togetherness lies at the heart of our practice's philosophy. All are treated equally well and are on an equal footing (e.g. the patient with the chiropractor and the patient with the reception staff). Here at IHR-CHIROPRAKTOR we DON'T have a two-tier system, which is something we have almost come to expect from the German healthcare system. Regardless of how you are insured, whether privately or under state provision, we will ensure a prompt appointment and expert chiropractic treatment without long waiting times.
We want to help our patients as quickly as possible and also help them for the long-term. In most cases this means meticulous 'detective work'. For IHR-CHIROPRAKTOR, it is important to treat not only the symptoms, but also to find the causes and the triggers of those symptoms.
We leave nothing to chance. For us, professionalism is a given.
Chiropractic and therefore the whole concept of our practice, is based on 'art – science – philosophy'. In short: healing through learned craft, science/knowledge and experience. Our chiropractors, each having completed full-time studies in chiropractic, are masters of the craft of adjustment and liberating the body's self-healing powers. In Germany, undertaking full-time study in chiropractic is comparable with studying medicine. Thus, in addition to studying the core chiropractic, our chiropractors are trained in general medicine, orthopaedics, physiology, neurology, radiology, and radiography and are officially qualified to carry out diagnoses.
The patient taking on their own responsibility is generally a very important part of any recovery (regardless of whether we're talking about the musculoskeletal system or simply a case of flu). This is also a part of our philosophy at IHR-CHIROPRAKTOR. For us it is key that a consciousness develops for what a human and correspondingly the human body was born to do - and what not.
Our patients are also warmly invited to cooperate in the dialogue as well as working from the patient's health record, so that the self-healing powers of the body can gain optimum support from chiropractic. This means being aware of what you can do as a patient to make yourself feel better and have your body heal itself faster. The worst thing that a patient can do is be inactive. Continuing inhibiting factors preventing the body from regenerating and bad habits, such as unhealthy diet, too much alcohol, too little sleep and too little or no exercise will also severely impede any recovery process.
"We are not only responsible for what we do, but also for what we do not do." (Molière)
Get in touch. We can help you and we look forward to greeting you as a patient in our practice.