Hinweis!
Das Datum der hier aufgelisteten wissenschaftlichen Studien bedeutet nicht wie aktuell eine Studie ist. Alle die hier aufgeführten Studien sind aktuell.
Wissenschaftliche Studien zur Chiropraktik & unsere Gesundheit
---
Unser menschlicher Körper ist sehr komplex und die Wissenschaft hilft uns Menschen dabei unseren Körper
und die damit verbundene Gesundheit besser zu verstehen.
Wir haben Ihnen hier relevante wissenschaftliche Studien zur Chiropraktik & unserer Gesundheit zusammengestellt.
Bei Fragen oder Anregungen, nehmen Sie mit uns Kontakt auf.
Sport:
---
Conservative lower back treatment reduces inhibition in knee-extensor muscles: a randomized controlled trial.,Suter et al, 2000
Chiropractic formed part of the backbone of London 2012
Effect of chiropractic manipulation on vertical jump height in young female athletes with talocrural joint dysfunction: a single-blind randomized clinical pilot trial, Hedlund et al, 2014
Lebensstil:
---
Altered Disc Compression in Children with Idiopathic Low Back Pain: An Upright MRI Backpack Study, Shymon et al, 2015
Natural anti-inflammatory agents for pain relief, Maroon et al, 2010
Beweg dich, Deutschland - Techniker Krankenkassen Bewegungsstudie 2016
Physical inactivity is associated with narrower lumbar intervertebral discs, high fat content of paraspinal muscles and low back pain and disability, 2015
Changes in lumbar disk morphology associated with prolonged sitting assessed by magnetic resonance imaging, Billy et al, 2014
Systematic literature review of imaging features of spinal degeneration in asymptomatic populations, Brinjikji et al, 2015
Kosten Effizienz:
---
Cost of care for common back pain conditions initiated with chiropractic doctor vs medical doctor/doctor of osteopathy as first physician: experience of one Tennessee-based general health insurer, Liliedahl et al, 2010
Cost-effectiveness of chiropractic care versus self-management in patients with musculoskeletal chest pain, Stochkendahl et al, 2016
Dose-response and efficacy of spinal manipulation for care of chronic low back pain: a randomized controlled trial, Haas et al, 2014
First-contact care with a medical vs chiropractic provider after consultation with a swiss telemedicine provider: comparison of outcomes, patient satisfaction, and health care costs in spinal, hip, and shoulder pain patients, Houweling et al, 2015
Bandscheibenvorfälle:
---
Outcomes of acute and chronic patients with magnetic resonance imaging-confirmed symptomatic lumbar disc herniations receiving high-velocity, low-amplitude, spinal manipulative therapy: a prospective observational cohort study with one-year follow-up, Leemann et al, 2014
Outcomes from magnetic resonance imaging-confirmed symptomatic cervical disk herniation patients treated with high-velocity, low-amplitude spinal manipulative therapy: a prospective cohort study with 3-month follow-up, Peterson et al, 2013
Resolution of lumbar disc herniation without surgery, Hong & Ball, 2016
Clinical Outcomes for Neurogenic Claudication Using a Multimodal Program for Lumbar Spinal Stenosis: A Retrospective Study, Ammendolia & Chow, 2014
Nacken-, Kopfschmerzen und Migräne:
---
Spinal Manipulation, Medication, or Home Exercise With Advice for Acute and Subacute Neck Pain: A Randomized Trial, Bronfort et al, 2012
The efficacy of spinal manipulation, amitriptyline and the combination of both therapies for the prophylaxis of migraine headache, Nelson et al, 1998
Dose response and efficacy of spinal manipulation for chronic cervicogenic headache: a pilot randomized controlled trial, Haas et al, 2010
Regional Supply of Chiropractic Care and Visits to Primary Care Physicians for Back and Neck Pain, Davis et all, 2015
Babybehandlungen:
---
Efficacy of chiropractic manual therapy on infant colic: a pragmatic single-blind, randomized controlled trial, Miller et al, 2010
Manipulative therapies for infant colic: Cochrane Database of Systematic Reviews: Plain Language Summaries, 2012
Untere Rückenschmerzen:
---
Low Back Pain: JAMA Patient Page | April 24, 2013
Early Predictors of Lumbar Spine Surgery after Occupational Back Injury: Results from a Prospective Study of Workers in Washington State, Keeney et al, 2013, Spine, Philadelphia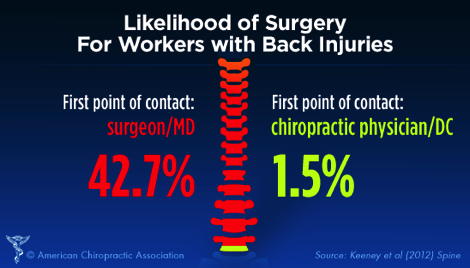 Low Back Pain in Primary Care: A Description of 1250 Patients with Low Back Pain in Danish General and Chiropractic Practice, Hestbaek et al, 2014
Adding chiropractic manipulative therapy to standard medical care for patients with acute low back pain: results of a pragmatic randomized comparative effectiveness study, Goertz et al, 2013
Schwindel, zentrales Nervensystem und vegetative Symptome:
---
Manipulation of Dysfunctional Spinal Joints Affects Sensorimotor Integration in the Prefrontal Cortex: A Brain Source Localization Study, Lelic, Haavik et al, 2016
Eye-Movement Training Results in Changes in qEEG and NIH Stroke Scale in Subjects Suffering from Acute Middle Cerebral Artery Ischemic Stroke: A Randomized Control Trial, Carrick et al, 2016sss
A combined approach for the treatment of cervical vertigo, Bracher et al, 2000
Welch, Arlene, and Ralph Boone. "Sympathetic and Parasympathetic Responses to Specific Diversified Adjustments to Chiropractic Vertebral Subluxations of the Cervical and Thoracic Spine." Journal of Chiropractic Medicine 7.3 (2008): 86–93. PMC. Web. 14 Nov. 2016.
Sicherheit der Behandlung:
---
Risk factors and precipitating neck movements causing vertebrobasilar artery dissection after cervical trauma and spinal manipulation. Haldeman S, Kohlbeck FJ, McGregor M Spine (Phila Pa 1976). 1999, 24 (8): 785-94.
"Cervical artery dissection: a biomechanical perspective," The Journal of the Canadian Chiropractic Association, B. Symons and W. Herzog, vol. 57, no. 4, pp. 276–278, 2013.
Risk of vertebrobasilar stroke and chiropractic care: results of a population-based case-control and case-crossover study. Cassidy JD, Boyle E, Cote P, He Y, Hogg-Johnson S, Silver FL, et al: Spine (Phila Pa 1976). 2008, 33 (4 Suppl): S176-83.
Systematic Review and Meta-analysis of Chiropractic Care and Cervical Artery Dissection: No Evidence for Causation, Church et al, 2016